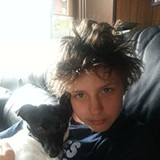 Annie-Malory is 11 years old. She is participating in the Melbourne Swim Classic 2015 on February 28, at noon on St Kilda Beach.
She says, "OTARC helps my sister, myself and other people with autism have better lives."
You can support Annie in her swim by visiting Annie-Malory's supporter's page and making a donation.
Thank you Annie for nominating OTARC as your charity in this event.