The first two weeks in December (and several weeks before and after) were exceptionally busy weeks for OTARC. During these weeks we hosted the Menzies Foundation Symposium on 'Shaping Futures', the second biennial conference of the Australasian Society for Autism Research, various events of the Autism CRC, and a workshop on eye-tracking technology for ASD research. All of these events were free of charge for delegates. Many of the OTARC staff, students and volunteers were involved in the organization and running of these events in addition to their usual workloads.
Menzies Foundation Symposium on 'Shaping Futures'
December 3

The Menzies Foundation Symposium focussed on recent advances in research and practice on early detection, diagnosis, learning, and early intervention for children with Autism Spectrum Disorder. It was chaired by our own Menzies Scholar Dr Josephine Barbaro and attended by about 370 parents, professionals and researchers. The event featured Professor Cathy Lord, Chair of the Centre for the Developing Brain at Cornell University in New York, and Dr Andy Shih, Vice President of Scientific Affairs of Autism Speaks, Associate Professor Robyn Young from Flinders University, and members of our own team, Dr Barbaro and Dr Giacomo Vivanti. We thank the Menzies Foundation for funding this symposium.

Click here for a recap on our social media posts throughout the day.
CRC for Living with ASD 
December 3 – 4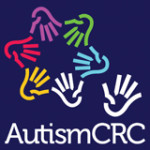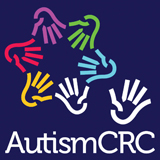 OTARC was delighted to host a meeting of the Autism CRC Board on 4 December. This was preceded by an inaugural Scholar Event on 3 December followed by an information update session. The Board and staff of the CRC were able to come together to learn of the progress being made across three programs and to meet and spend time with members of the Autism CRC Team, including the new CEO, Andrew Davis.
A number of the Autism CRC researchers, including CRC PhD students, presented their work at the ASfAR conference, with a special poster session convened by Professor Patricia Howlin. Ms Megan Hatfield from Curtin University won the inaugural Autism CRC Poster Prize, presented to her by Professor Howlin. Ms Jeannette Purkis, a woman with Asperger Syndrome, gave a wonderful talk on the 'World of Work' and Professor Sylvia Rodger and Dr Kate Van Dooren, University of Queensland, launched an Inclusive Research Practice Guide and Checklist that they developed. In addition a CRC information session was held during the ASfAR conference which was well attended by conference delegates who had an opportunity to find out about the important work being undertaken and planned to transform the lives of people living with autism.
The second Biennial Conference and AGM of the Australasian Society for Autism Research (ASfAR)
December 4 – 5

This conference, convened by Professor Cheryl Dissanayake, attracted 200 local and international delegates, with three high-profile international researchers presenting keynote addresses: Professor Cathy Lord, Chair of the Centre for the Developing Brain at Cornell University; Dr Andy Shih, Vice President of Scientific Affairs of Autism Speaks; and Professor Sue Leekam, Chair of Autism and Director of the Wales Autism Research Centre. The conference was free to ASfAR members, of which we currently have 360. We thank ACER and AMAZE for sponsoring the lunches at ASFAR and the Autism CRC for the two morning teas.
Most of the OTARC researchers and many students presented at the conference. Two lifetime ASfAR memberships were awarded to Professor Margot Prior and Professor Lawrie Bartak in recognition of their contribution to research and service in ASD.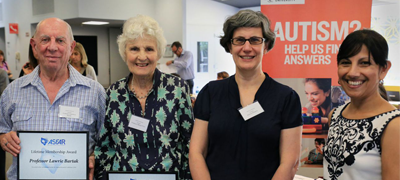 Most of the OTARC researchers and many students presented at the conference. Follow this link for further information about the program [PDF 1.55MB].
Ms Susan Wade (Monash University) received the inaugural Margot Prior Prize for best student oral presentation at the conference, and Mr Peter Donaldson (Deakin University) received the inaugural Lawrie Bartak Prize for best poster presentation.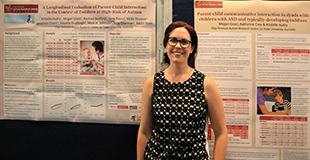 The ASfAR Annual General Meeting was held on Friday 5 December, with a newly elected Executive Committee. Professor Katrina Williams stepped down as President following a two-year term, and Professor Deb Keen and Dr Jon Brock stepped down as ordinary and co-opted members respectively. A ballot was held at the conference to vote for a President. The new executive comprises:
Dr Trevor Clark, President;
Professor Cheryl Dissanayake,Vice President;
Associate Professor Mark Stokes, Treasurer/Secretary;
Professor Sylvia Rodger, Autism CRC Representative;
Ms Clare Holmes, Postgraduate Student Representative;
Ordinary Members:
Professor Andrew Whitehouse;
Dr David Trembath;
Professor Jacqui Roberts; and
Professor Valsa Eapen.
The new Executive Committee will meet in February 2015.
Ms Mary Hawkins, NDIA Branch Manager, spoke at the AGM about the current status of the NDIS and its key features with regards to planning and funding packages for people with an ASD.
New Direction in Eye Tracking Forum
December 8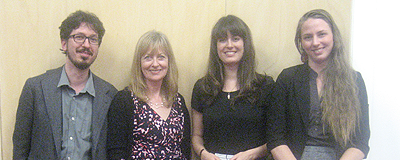 The New Directions in Eye Tracking forum was co-hosted by the Wales Autism Research Centre, and was attended by around 70 professionals, including people with autism and researchers. It featured Professor Sue Leekam and her post doctoral fellow, Dr Georgina Powell, as well as one of our own Post Doctoral Fellows – Dr Heather Nuske. Discussions centred on the use of eye-tracking technology for studies on attention and emotional reaction in children with ASD. The forum consisted of presentations and a discussion about what eye tracking technology can offer, not only for research but for assessment and intervention practice.