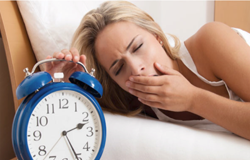 We're seeking participants for a new study, which is looking at sleep in adults on the autism spectrum.
We are inviting adults on the autism spectrum, with no intellectual disability, aged between 18 and 50 to help us.
You do NOT need to have a sleep difficulties to participate. Participants may enter the draw to win one of three $30 Coles/Myer gift cards.

Individuals diagnosed on the autism spectrum are vulnerable to the development of sleep problems, which can be associated with anxiety. However, much remains unknown about why people on the spectrum are vulnerable to poor sleep and anxiety.
Ms Pura Ballester Navarro, PhD candidate and Associate Professor Amanda Richdale are conducting this research to investigate sleep patterns and circadian rhythms in adults on the autism spectrum who do not have an intellectual disability. Pura is a PhD student from Alacante, Spain, who has been awarded an internship to study at OTARC.
What is involved
An initial appointment at OTARC, La Trobe University, to talk about the study and complete a one-on-one assessment
1 online questionnaire to be done in your own time at home
7-day online sleep-wake diary – about 5 minutes morning and night, at home
Wearing an Actigraphy device for 7 days
Saliva collection (1 when you come to La Trobe, 1 night and 2 in the morning at home
As a thank you for your time, participation and interest you can choose to be entered into the draw to win 1 of 3 $30 Coles/Myer gift cards.
To find out more, you can read the Participant Information Statement on Qualtrics.com.  If you then decide to take part, you will be asked a few questions about yourself to get started  This takes approximately 5 minutes.
You can also contact Ms Pura Ballester Navarro, 03 9479 2891, P.BallesterNavarro@latrobe.edu.au