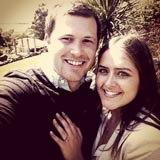 In lieu of engagement gifts, Amelia and Andrew are asking the guests at their engagement party for a donation to OTARC for the amount that would otherwise be spent on a present.
They say, "OTARC has been involved in great research into the causes of autism. It is also highly respected professionally and leads research into autism in this country. If we could detect it early, find any genetic markers or find the reasons why autism occurs, this would be wonderful for families with young children getting early intervention when they need it and for families/siblings who might carry the gene or be predisposed to having an autistic child.
"This means a lot to both of us personally, there are many people dear to us that are affected by autism. The more people that know about Olga Tennison Autism Research Centre, the greater their impact. Thank you in advance for your generosity, it means the world to us."
Amelia and Andrew's engagement party will be on November 23. We wish them much happiness and thank them for their selfless and generous efforts for OTARC.
You can also donate to Amelia and Andrew's engagement.