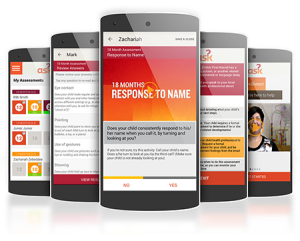 By Wojciech Nadachowski
Senior Advisor, Operations & Projects

On Valentine's Day 2016 we launched ASDetect, our new smartphone app designed for parents, educators, and health professionals to identify autism very early in life, before age 2 ½ years.
Since the launch, we've been feeling the love! In the 48 hours post-launch, ASDetect was mentioned 43 times in the media, including stories on both SBS and ABC TV news. We've also gathered some social media love with many tweets, including one from the Minister for Industry, Innovation and Science, Christopher Pyne.
Much gratitude is due to Salesforce, our partner in the development of ASDetect, whose developers have thus far donated over 750 hours of their time through their 1:1:1 staff volunteering program.
For data lovers, here are our numbers to date:
5,700 installations of ASDetect,
2,500 children have been assessed,
4,300 children added by 3,900 registered families,
650 GB (43 days) of video delivered,
over 65% of ASDetect users have allowed us to use their data for research.
We developed ASDetect because we knew from our underlying research (on the SACS) that there was a need for this kind of technology, and these numbers confirm that need.
We call ASDetect an app, but really it's more than that. The technology behind ASDetect enables targeted delivery of emails reminding parents when their child's next assessment is due, while the support section of asdetect.org provides access to knowledge articles, and to our customer support team. The app is also a very effective means of raising awareness about the early manifestations of autism that develop across the first two years of life.
'I found the app fantastic, easy to use and very informative.'
Comment from a mother of three children with ASD, with a 12-month old identified as 'high likelihood' by ASDetect –