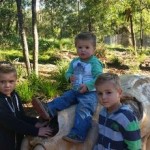 Cassie Andersen of South Morang has nominated OTARC as her chosen charity for the Age Run Melbourne 2015.
Cassie says, "Autism is something very close to my heart with my son being diagnosed. He is amazing and perfect, but there is a long road ahead of us, and even face battles on a daily basis. There is still no cure and no understanding as to why. I am doing this run in support of him and all other families facing the same battle on the 26th July. Any donation big or small would mean more than you know."
Thank you Cassie for your amazing effort.
You are invited to sponsor Cassie at her Sponsorship Page