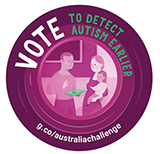 Google Impact Challenge Finalist
The Google Impact Challenge is an iniative that supports non-profit innovators who use technology to tackle the world's biggest social challenges. The ASDetect App is freely available to parents and caregivers to assess their children in early detection of Autism and related developmental conditions.
We are proud to have been one of the ten finalists and delighted to have won $250k! These funds will be used to extend ASDetect's reach, and bring early detection of autism to even more families all over the world.
We would like to thank all our supporters who voted for us during this challenge.
The App also was the Australian Information Industry Association Research and Development Project of the Year (ASDetect).
Dr Josephine Barbaro received an award relating to ASDetect: Autism Cooperative Research Centre (Autism CRC) award – Best Translation of Autism Research (ASDetect)
Dr Josephine Barbaro has also been appointed an Executive Committee Member to ASfAR, and Professor Cheryl Dissanayake will continue on the Executive, as Vice-President.
A Citation for Cathy
A recent paper by PhD candidate Cathy Bent, co-authored by Cheryl Dissanayake and Josephine Barbaro, was cited in the Australian Medical Association's 'Position Statement on Autism Spectrum Disorder (ASD) 2016', see
See Bent, C., Barbaro, J., & Dissanayake, C. (2015). Mapping the diagnosis of Autism Spectrum Disorders in children under 7 years in Australia: 2010 – 2012. Medical Journal of Australia, 202, 317-320. DOI 10.5694/mja14.00328.