March 19 – 25
1st World Conference on Personality (WCP), Stellenbosch, South Africa.
Understanding Cognition in Autism Spectrum Disorders: Social and Flexible Cognition in the General Population. K. Hudry (Oral presentation)
April 25-26
International Conference: Best practices for early diagnosis and intervention in Autism Spectrum Disorders: an Italian-Israeli Consensus Conference. Jerusalem, Israel.
Implementation of the Early Start Denver Model in a Group Setting: Clinical Outcomes and Predictors of Outcomes. G. Vivanti (Invited lecture)
May 2 – 4
International Meeting of Autism Researchers (IMFAR)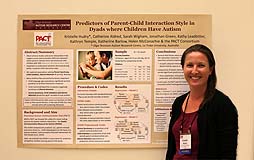 Presentations by OTARC staff and students  at IMFAR, 2013
Mental Health Difficulties in Toddlers At High-Risk for Autism Spectrum Disorders. K. N. Crea, C. Dissanayake and K. Hudry (Oral presentation)
Normative Reactivity to the Emotions of Familiar People in Young Children with Autism Spectrum Disorder. H. J. Nuske, G. Vivanti, K. Hudry and C. Dissanayake (Oral presentation)
Determining the Efficacy of the SACS in Identifying Preschoolers with ASDs: Development of the SACS Preschool (SACS-Pr). J. Barbaro, E. Ulusoy and C. Dissanayake (Poster)
Developmental Surveillance Versus Screening for the Identification of Autism Spectrum Disorders in Infants and Toddlers. J. Barbaro, A. Mitchell and C. Dissanayake (Poster)
Predictors of Parent-Child Interaction Style in Dyads Where Children Have Autism. K. Hudry, C. R. Aldred, S. Wigham, J. Green, K. Leadbitter, K. Temple, K. Barlow, H. McConachie and T. PACT Consortium (Poster)
Processes of Risk and Resilience in the Developing Brain: Evidence From Infants at Risk for Autism. M. Elsabbagh, E. Mercure, K. Hudry, G. Pasco, T. Charman, A. Pickles, M. H. Johnson and The BASIS Team (Poster)
The Impact of a Social Skills Training Program on Social Competence and Social Worries in Children with an Autism Spectrum Disorder. M. Chester and A. L. Richdale (Poster)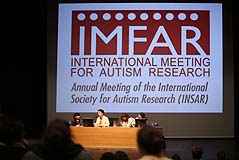 Scientific Panel:  Beyond the RCT: Extending Delivery of the Early Start Denver Model in the Real World to Foster Best Practice
Session Chair: C. Dissanayake
Group Delivery of the Early Start Denver Model: Treatment Outcomes. C. Dissanayake, C. D. Zierhut and G. Vivanti (Oral presentation)
Social and Non-Social Abilities Are Differentially Associated to Treatment Gains in Different Domains. G. Vivanti, and C. Dissanayake (Oral presentation)
Preconference Event: Sleep Special Interest Group
Sleep Education Dissemination In Australia And The United States. A. Richdale with T. Katz (University of Colorado).
Preconference Event: Autism Toddler Treatment Network Annual Meeting
Sustainable Imprementation of Early Intensive Behavioural Intervention in the Community: The Victorian ASELCC Program. C. Zierhut, G. Vivanti.,  C. Dissanayake, and S. Rogers
A summary of the Preconference Sleep Dissemination Workshop
(May 1, 2013 at IMFAR in San Sebastian, Spain)
The Autism Treatment Network (ATN) sponsored this well attended event with the following presentations:
·         Beth Malow, MD, MS, Professor of Neurology and Pediatrics, Burry Chair in Cognitive Childhood Development, Director Sleep Division at Vanderbilt University. Sleep Education for Parents of Children with Autism: What Works Best?
·         Kristen Sohl, MD, FAAP, Director of Clinical Services at the Thompson Center for Autism and Neuordevelopmental Disorders at the University of Missouri at Columbia. Improving Sleep Outcomes through Quality Improvement.
·         Margaret C. Souders Ph.D. CRNP, Assistant Professor, Department of Biobehavioral Health Sciences, University of Pennsylvania, School of Nursing, Co-Director, Certificate or Minor in the Integrated Nursing Care of Autism Spectrum Disorder, Pediatric Nurse Practitioner, Clinical Genetics Center, Center for Autism Research, The Children's Hospital of Philadelphia. Anxiety, Insomnia and Arousal Dysregulation in Children with Autism Spectrum Disorder and ATN Sleep Tool Kit Dissemination Activities.
·         Terry Katz, PhD, JFK Partners, Autism and Developmental Disabilities Clinic, University of Colorado School of Medicine, Child Development Unit, Children's Hospital Colorado and Amanda Richdale, PhD, MAPS, Associate Professor, Principal Research Fellow, Olga Tennison Autism Research Centre, La Trobe University. Sleep Education Dissemination in Australia and the United States.
There was a lively discussion throughout the evening.  Here is a synopsis of each presentation:
Dr. Malow discussed sleep education for parents of children with autism spectrum disorder (ASD).  After reviewing the literature concerning sleep education for improving sleep problems in children with ASD, she presented the rational for providing sleep education, reviewed specific sleep education techniques, and provided information about a research project that she recently completed in which the effectiveness of providing sleep education to parents of children with ASD was investigated.  The paper has just been published and is available electronically:  http://www.ncbi.nlm.nih.gov/pubmed/23754339
Dr. Sohl reviewed an Autism Speaks/Autism Treatment Network Quality Improvement project which she is heading.  This project is targeting insomnia in children with autism spectrum disorders.  She discussed the goals of this work which includes identifying children with sleep concerns and working with families to achieve improvement in sleep metrics.  She talked about the ways in which sleep is assessed as well as behavioral strategies that are being employed.
Dr. Souders discussed a recently completed investigation of anxiety, insomnia, and arousal dysregulation in children with autism spectrum disorder.  Her data indicate the strong relationship between anxiety and insomnia in children with ASD, and she presented findings from this study including information gathered from sleep diaries, actigraphy, biomarkers, the Anxiety Disorders Interview Schedule, and the Child Sleep Habits Questionnaire.  Dr. Souders also discussed her work disseminating the ATN sleep toolkit which has included workshops at Disney World and at libraries in Philadelphia.
Drs. Katz and Richdale presented various methods of disseminating sleep education information in Australia and the United States.  They reviewed different types of presentations ranging from full day workshops to one hour lectures and talked about the target audiences at these presentations as well as the content of sleep education information that is reviewed.  They discussed the positive outcomes associated with disseminating sleep education information to parents and practioners as well as the challenges associated with this type of dissemination.
More information about this meeting will be presented on Monday, August 26th at 3pm ET: Advances in Autism Research & Care Webinar Series sponsored by the AS ATN /AIR-P: Sleep Education: Disseminating into Clinical Practice:  A Summary of a Workshop Held at the IMFAR Meeting.  If you are interested in attending the webinar, you may register at https://www3.gotomeeting.com/register/449345366