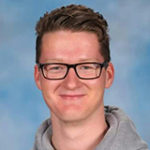 Daniel Pugh,a young man on the spectrum, shares his story of the struggles he faced daily at school.I was happy to be made aware that the Olga Tennison Autism Research Centre exists. I discovered it purely by chance upon reading my local newspaper, the Warrnambool Standard, an affiliate of Fairfax Media.  I read an article about a young boy whose story is not dissimilar to my own, his name is Lucas Whittam. I saw mention of your institute in a quote from Professor Cheryl Dissanayake, and wanted to share my own experiences in what was a very turbulent childhood.
I'll start by painting a picture of how I compared to Lucas in the hope that one day my story reaches others like us and that there is hope for unique individuals such as Lucas and I.
At age 12, I was an angry and aggressive child subject to 'meltdowns' and severe fits of rage. I had just been diagnosed with Asperger's Syndrome and Major Depressive Disorder. In a public school, I had a huge amount of trouble trying to learn in what I thought was a very hostile environment. I experienced anxiety that was incredibly overwhelming in so many situations. I can't remember a time in my life where its unfriendly grasp was not present. I was frequently suspended and reprimanded by the school, who for the most part were shocked that a child could behave as badly as I did. I wasn't just a normal naughty teen. One of the most powerful memories of this time is my parents' shock in discovering blood on my sheets in the mornings. In my innocence I was not aware the urge to self-harm was so primal.
Despite the public and private school systems being hugely inadequate for a child with needs such as mine, a small cohort of teachers who had my best interests at heart began influencing my life. They could see despite the frustration and sadness in my life, I was an intelligent boy with a bright future provided they could steer me in the right direction. Within a period of a few months, they set up systems so that I could be controlled in a structured and comfortable environment. They implemented a 'mood' warning system so I could accurately describe how I was feeling without having to speak. All I had to do was show a coloured card that represented my level (of anxiety/anger). These levels had been predetermined in consultation with this group of teachers. I barely understood emotions in others, let alone myself, but these colours, rudimentary as they were, served as a basis for the self-awareness I would develop in the future. This system was not their only accomplishment; there are so many other things that they did for me that I cannot remember. This was a time in my life I would rather forget.
Sometimes, it takes not a special school, but special individuals within the teaching staff to turn things around for kids like myself and Lucas. I will single out one individual, a Vice Principal at Terang College in Western Victoria by the name of Kerrin McKenzie, who my mum would call a 'one in a million' kind of guy. He'd recently done some training in autism spectrum disorders before my arrival at the school, but it wasn't his training that prepared him. It was his tolerance and patience as well as his ability to read who I was despite the many walls I had put up to stop anyone from seeing in. At the time we didn't know I had ADHD, this diagnosis had been missed by the countless specialists I'd seen through my childhood. I can't even begin to count on my hand how many government specialists had only offered a small insight into the depth of my mental illness.
Finally at the age of 17, it took one psychiatrist to begin answering the final questions I had about myself. Gerald O'Brien, based in Geelong, Victoria, is quite adept at dealing with children like myself. He definitely had an easier job than if he'd seen me two years previously. Gerald diagnosed me with ADHD, everyone else had thought Bi-Polar at the time, but he made it clear my mood swings were moderate enough to fall under the ADHD diagnosis. For that and other reasons. I cried that day, for the fact that since I was 8 years old, I'd always had so many problems but now at least I could name all of them. It takes a lot to change who you are, the instincts that drive you. I had to help myself a lot of the time. But it was made easier by individuals who cared.
I now sit back in my final year of VCE, a successful student, though academically I've never been able to achieve as much as I'd like. Normal academic structure is quite restricted for individuals such as myself. From the person I was to the person I have become will always go down as my biggest achievement. One of the greatest things in life is to find at least a portion of who you are, I think that at 18 years of age I can say I've discovered a great deal of my identity. What those like myself go through in their tender years is more than many go through in the first 50 years of their lives. The incredible internal turmoil we experience, clinging onto a life that is just so intensely frustrating and saddening. I managed to do it, and I believe Lucas can too.
If it is in any way possible, I would love for my story to reach Lisa Whittam or to at least be made aware within your institute that despite the many failings of the education system, there are gems that save young kids like me. I probably would have ended up in a mental institution in all honesty, and though I will never be cured, my mental scars urge me on in life, to become successful, to find happiness. Sure, I have some bad times and some good times. But it's the worst times that remind me never to go back, to never regress back into what I was. Intellect is a painful burden at times, but if Lucas, with your help, can use it to help himself, he will survive. He will develop and prosper into a happy young man.
Autism and ADHD are too commonly stereotyped and generalised in mainstream media. I think my Autism is a gift; it's given me many abilities that enable to me to excel in many things. When I was younger, socialising and understanding cues was so difficult, but after analysing others for most of my life, I've become a well-liked and well-respected guy.
I have so much more to say, I can't fit it all into these words which are all text, lacking the emotions I feel about everything I have gone through: the challenges I have faced, and the challenges I will face in the future. But I am more prepared than most 18 year olds, of that I am sure.
Yours Sincerely,
Daniel Pugh
To read the original story that prompted Daniel's story – http://www.theage.com.au/victoria/the-children-our-schools-cant-teach-20160523-gp1nxg.html