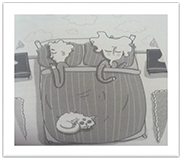 Sleep Workshop 
Sometimes the harder you try to sleep, the more difficult it becomes… 
Insomnia is one of the most common health complaints in Australia, affecting up to a third of the population. When sleep is poor we can feel tired and irritable, and as though everything requires more effort. When poor sleep persists it can increase negative feelings, affecting our mood and general health.
This group will help you to improve your sleep, by learning natural ways to stop struggling and start sleeping. The group is appropriate for anyone who struggles to get to sleep, maintain sleep, wakes up too early, or does not sleep.
The La Trobe Psychology Clinic offers a sleep workshop run over two days (3 hours each day). In this group you will meet others who struggle with sleep and explore the following:
Why your insomnia started and what maintains it
How to achieve good quality sleep every night
How to sleep naturally without reliance on medication
This workshop is open to adults with High-functioning autism and adults without disabilities. The workshop offers a combination of skills training (including developing skills in mindfulness), discussion and exercises. You will be encouraged to use the learning from the workshop to build a new sleeping pattern and improve your sleep. You will also receive a set of self-help materials to use after the workshop. Standard workshop cost is $50, with a reduced rate of $25 for students and healthcare card holders.
Based at La Trobe University Bundoora campus, the Psychology Clinic provides affordable individual and group therapy services, and neuropsychological assessments. We also offer specific memory groups and groups for anxiety and depression. Services are provided by provisionally registered psychologists who are supervised by experienced clinical psychologists.
If you have any questions or would like to indicate your interest, please call or email the clinic:
Phone: 9479 2150 Email: psych-clinic@latrobe.edu.au 
Operating hours: Monday to Friday, 9 – 5pm
Website: http://www.latrobe.edu.au/psy/clinic