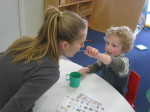 When: Wed 24th August to Fri 26th August 2016
Cost: $1500 + GST per participant
Graduates of the Introductory Workshop will learn how to implement therapy using the Early Start Denver Model. Teams of 3-5 professionals will work together to receive direct practice in using the ESDM with young children with Autism Spectrum Disorder (ASD). Coaching and feedback will be provided on how to generate and embed a developmentally-appropriate teaching curriculum into naturalistic routines for young children with ASD.
Topics include how to:
Use the ESDM curriculum checklist to evaluate a child's skill level across developmental domains
Build quarterly objectives and teaching steps
Teach developmental objectives embedded inside naturalistic routines and play
Take data on child progress
Self-evaluation techniques for your use of intervention strategies.
Following completion of the ESDM Advanced Workshop, trainees will be eligible to apply to complete the certification process to become a certified ESDM therapist (additional fees apply.)
This workshop is available to professionals who:
Work regularly with 12-48 month aged children with Autism Spectrum Disorder (ASD)
Work as part of an interdisciplinary team (e.g. general/special education teacher, developmental/clinical psychologist, SLP, OT, behaviour analyst)
Have read the ESDM Manual and can bring their own copy to the workshops.
Please email Autismtraining@latrobe.edu.au to register your interest for this workshop.