Frame of Mind: The figure and beyond
Writer's Block Café, la Trobe University April – May 2015
Olga Tennison Autism Research Centre (OTARC) and La Trobe University Museum of Art (LUMA) celebrated International Autism Awareness Day with their annual campaign Frame of Mind. The exhibition brought together the work of seven emerging and established artists with an ASD from around Australia:
Frame of Mind: The figure and beyond was opened on April 2, 2015, by Stuart Purves AM, National Director of Australian Galleries.

The figure and beyond required that each work feature the human figure as the central motif. The theme and style was open and unique to each artist.  The human figure was foregrounded as a subject in itself, and as a means of examining resonant themes.  Some of works sought to make us laugh, as well as exploring what it is to be human.  Some stories related to the body, while others addressed the more interior aspects of identity.
OTARC extended an invitation to people involved with OTARC, autism or the visual arts to write a response to one of the works, and these were mounted for the exhibition as well as published on OTARC's blog Another Piece. Thank you to those who contributed.
Professor Margot Prior, The Chair of Olga Tennison Autism Research Centre's Advisory Committee, wrote the following about In the Garden: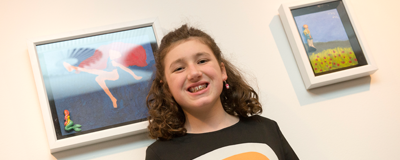 Zalie's picture In the Garden makes me think of the peace you can feel as you look at a wide, pure blue sky when you are alone in the cool air and wanting to think over something on your mind. You climb up through a meadow of spring flowers to a high point where no-one can bother you and your thoughts can run free. You listen to the birds and their calling and singing to each other and you feel yourself escaping from the dark boundaries you sometimes have to struggle with to find your own space.
OTARC would like to thank all of the exhibiting artists for allowing us to show their work. We would also like to thank LUMA and Arts Project Australia for their involvement and support of Frame of Mind 2015.