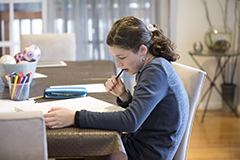 The Olga Tennison Autism Research Centre (OTARC), University of Melbourne and the Cooperative Research Centre for Living with Autism are running a new research study, investigating how children with ASD speak about their day at school.  "How was your day?" is looking in particular at the conversations that take place in the home.
Who can participate?
We are inviting parents who have a child with an ASD in Grades 4, 5 and 6 (ages about 8-12 years) at a mainstream Victorian primary school, and who speak English at home.
What does participating involve?
As the parent/primary caregiver, you will be required to complete an information pack.
You will then record two natural conversations between you and your child on two different days (audio-visual equipment will be provided)
At the end of the week the child will be invited to complete a short survey interview
If possible, we would also appreciate your help in inviting another family into the project from the same year level at the same school as your child who is typically-developing (i.e. does not have an ASD or other known developmental delay or disability).  If you know about a family who might be interested in taking part, we will give you a flyer to hand to them.
How your participation helps

You will help us to understand the various ways in which children with an ASD communicate and converse about their school day, which will also help us to define any potential barriers which may ultimately be impairing their ability to enjoy school, and succeed at school to their fullest.
To thank you for your participation, we will provide you with a $20 gift voucher.
For any questions or to express an interest in participating, please contact:
Lindsay Pamment, Research Assistant
School of Languages and Linguistics
The University of Melbourne
lindsay.pamment@unimelb.edu.au