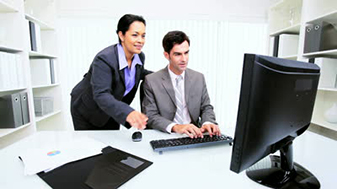 Help Adults with ASD become "Job Ready"
An exciting opportunity exists to apply for a position of Employment Service Manager for a roll out of the Specialisterne program across Australia.
If you have a keen interest in managing an assessment and transition-to-work program for individuals with an Autism Spectrum Disorders (ASD) please consider applying.
The Position
You will be working on behalf of clients seeking to employ adults and adolescents with Autism Spectrum Disorder. Your responsibilities will include:
preselection and selection of candidates
assessment of selected candidates according to the Specialisterne Competence Model
transition candidates into the work environment
establish support structure to retain candidates in the job.
In order to accomplish this you will be establishing the assessment program throughout Australia in collaboration with HP and Specialist People Foundation, train and supervise additional trainers in the assessment model, and develop a manual of the training model. You will also be working with researchers at the Olga Tennison Autism Research Centre, La Trobe University in Melbourne to evaluate the program.
The Candidate
You will have:
a degree in social science, psychology, human resource management teaching, Certificate IV in Training & Assessment, or other related discipline or equivalent work experience
experience in working with a clinical cohort of clients, including adolescents and adults with Autism Spectrum Disorder and other comorbidities, and managing their clinical needs
experience in managing national projects
experience with training and supervision of employees
interest and experience in research
understanding of disability access standards.
Application submisssons

Please submit a CV accompanied with a covering letter addressing the essential and desirable essential criteria to Wojciech Nadachowski, Senior Advisor Operations and Projects, Olga Tennison Autism Research Centre.
Tel +61 (0)3 9479 1520; email w.nadachowski@latrobe.edu.au
Applications close Friday July 3rd, 2015.
Please note, applicant interviews will commence prior to the cut-off date.
Important Links