Josie wants to make a difference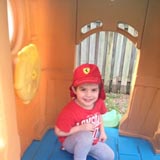 Josie Toscasio is inspired by the work of the Olga Tennison Autism Research Centre, so she wants to raise money for us as part of her participation in The Sunday Age City2Sea presented by Westpac 2013 on November 17. You can help Josie to help OTARC by giving whatever you can using the 'Give Now' button on Josie's Everyday Hero Page.
The more people that know about Olga Tennison Autism Research Centre, the greater their impact, so please also spread the word by sharing the Josie's link with your friends and family. Josie thanks you in advance for your generosity. It means a lot!