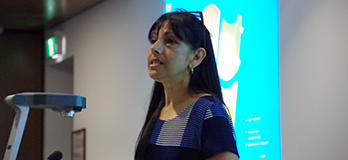 Our Director's address at our AGM
Hello, I am Professor Cheryl Dissanayake, and I have now had the privilege of being Director of the OTARC for 9 years, with this being our 8th Annual General Meeting.
We would not be here without the generosity of Mrs Olga Tennison, who is with us today. Thank you Olga.
I would also like to acknowledge Professor David de Kretser, our ex Victorian Governor and our Patron.
It has been another busy year, with a highlight being the development of a mobile app for parents to identify early signs of autism in their infants and toddlers. The app was developed and launched within a year following approval for its go-ahead – by the Senior Vice President of Salesforce in the Asia Pacific Region – Mr Dan Bognar, who is also with us today. Dan is a new member of our Advisory Committee. The app, called ASDetect, was developed pro bono by a team at Salesforce, which is the fourth largest IT company in the world. In two months we have had more than 6500 downloads.
Importantly, the app is a wonderful example of research translation. Dr Josephine Barbaro undertook the work on the early identification of risk signs in children with autism, initially for her PhD and then as a Research fellow at OTARC. The success of her studies, which resulted in over 80% of children being correctly identified as developing autism prior to two years of age, meant that we can now equip parents with a tool to monitor their children themselves for these early signs. We hope that ASDetect will lead to a significant reduction in the age when children with autism are diagnosed, so that they may access Early Intervention in their critical early years of development.
Another key area where we continue to flourish is the research and service at the Victorian Autism Specific Early Learning and care centre (ASELCC), also known as the Margot Prior Wing, where 20 young children with Autism receive high quality Early Intervention (EI) and care each day. And this is because of the dedicated transdisciplinary team of staff who work to ensure the best outcomes for their young clients and their families. The very successful research program at the Margot Prior Wing underpins the delivery of service and in 2015, we ran a pilot Random Control Trial (RCT) to determine the efficacy of delivering our EI model (the Early Start Denver Model – ESDM) to children in an inclusive versus a segregated setting. This pilot was funded by the NDIA. And our preliminary results show that children in each setting made significant gains in language and adaptive behaviour and showed reduction in behavioural symptoms as reported by parents. So this year, we have continued to offer the service in both settings. We have applied for funds to extend the RCT with a larger sample, collected over three years.
Despite much success in our work on the early years, I am sad to report that we have closed our Early Assessment Clinic for children with Autism – this was the only clinic in Australia that specialised in seeing children at risk of Autism under the age of 3 years. In Australia, the average age of diagnosis of Autism in under 7 year olds is 49 months – as established by one of our own PhD students, Cathy Bent, working with Federal government data. Children in our clinic were an average age of 27 months when they received a diagnosis. I had hoped that we would be able to attract government funding for this clinic during the three years of its operation, without success. So we saw our last family in September.
A new area of research that we established at OTARC in 2015, in partnership with Hewlett Packard Enterprises (HPE), the Australian Government and a Not-For-Profit company called Specialisterene, is the Dandelion Project, with our aim being to understand the factors that promote successful employment of people with Autism. HPE, with the help of Specialsterne, recruit and train people with Autism to become software testers, who are then placed within the Federal Department of Human Services. This implementation is underway in three Australian States.
This model has now been extended into the area of cyber security, with a new contract recently signed with the Department of Defence. So it's an exciting partnership that has brought many new national and international collaborations.
We also have a number of research projects that continue to be funded by the Autism CRC, with many of our scholars engaged in this nationwide program of research. So our areas of work continues to grow, with the number of projects increasing each year. This is only possible because of our dedicated research staff and students, and the administrative staff that support us.
So I would like to acknowledge them all, and also our Advisory Committee who help us steer a clear course.
Thank you.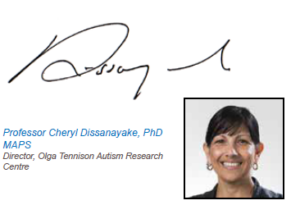 You can download the full report here.