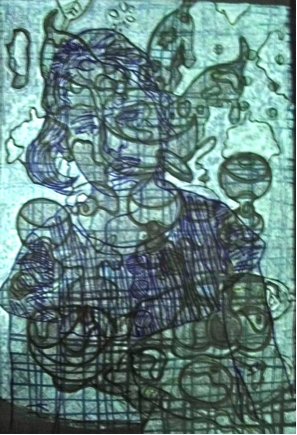 Isabel and Gauguin's still life 2015


oil on polycarbonate




90 x 70 cm
Frame of Mind is an Autism awareness campaign that invites you the viewer to engage with the work of seven contemporary artists.
Caroline Field, Curator and Writer
The young sitter is entering an altered state, induced by sleep or the need to escape. Caught in the delicious moment of leaving reality and being lulled into a surreal state of play, anything is possible, nothing is denied. She's submerged in a sea of aqua tones, with somnambulistic impressions enveloping and transporting her into the night.
Day is now parched as nocturnal hues wash over her. The reverie further darkens as a melancholic unreality takes hold. Midnight becomes a bruised poisoned blue. She is overwhelmed by once familiar objects, and the grid that protected becomes a confining cage.
FRAME OF MIND: SHARE YOURS BY COMMENTING ON ISABEL AND GAUGUIN'S STILL LIFE HERE