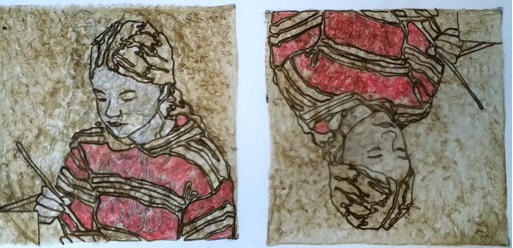 Study in brown 2014

oil on polycarbonate
70 x 130 cm
 Frame of Mind is an Autism awareness campaign that invites you the viewer to engage with work of seven contemporary artists.
Margot Prior
Chair of the Olga Tennison Autism Research Centre Advisory Committee
In Study in brown Ray David shows us a young girl immersed in painting, something which needs a great deal of precision to create. She is absorbed in the story she has in her head. When she is sure of her brush strokes her face is at peace and she know she will be happy with her work. When it does not go well she turns herself upside down and tries to paint from a different angle and her face tells us she is not so happy with this view. The expressions on her face are what draw your eyes to try to understand what is in her head.
FRAME OF MIND: SHARE YOURS BY COMMENTING ON STUDY IN BROWN HERE