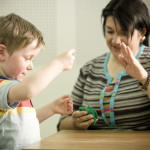 The Menzies Foundation Symposium: Shaping Futures will focus on recent advances in research and practice covering early detection, diagnosis, learning, and early intervention, for children with Autism Spectrum Disorder. Brought to you by Menzies Foundation together with Olga Tennison Autism Research Centre (OTARC) at La Trobe University, Shaping Futures will showcase renowned local and  international researchers.
Event details:
Date: Wednesday 3rd December 3.00 – 6.30 pm
Venue: Western Lecture Theatre 1, La Trobe University
Registration: This symposium is a free event but bookings are essential. To confirm a seat please register online. Event information such as parking will be emailed out to you.
Programme details:
3:00 – 3:10: Introduction
Professor Cheryl Dissanayake, Director OTARC
Chair – Dr Josephine Barbaro, Menzies Foundation Scholar, Postdoctoral Research Fellow, OTARC
3:10 – 4:10: Keynote Professor Catherine Lord, Director of Centre for Autism and the Developing Brain
4:10 – 4:30: Break
4:30 – 5:30: Short Presentations:
Dr Josephine Barbaro, OTARC, La Trobe University
Dr Robyn Young, Associate Professor, Flinders University
Dr Giacomo Vivanti, Victorian Autism Specific Early Learning Care Centre, OTARC, La Trobe University
5:30 – 5:50 Break
5:50– 6:30: Keynote Dr Andy Shih, Senior Vice President Scientific Affairs, Autism Speaks