By Wojciech Nadachowski
Talking ASD Research
This year OTARC created a new show Inside the Lab to look at recent developments in Autism research. Using a the talk show format to address changes in Autism research we hope the more casual format will make this information more accessible. We will be inviting researchers from around the world to give us their inside knowledge on questions they are focusing on.  We will also invite individuals,  parents, clinicians, professionals and teachers to understand the impact of research as well as their priorities. To find Inside the Lab  on our blog is easy, just click on the "Inside the Lab" category in the right hand sidebar.
Why create a show on ASD research?

When starting at OTARC in 2011, I was familiar with the autism community having worked with adults at Alpha Autism and managing the Drawtism awareness and fundraising campaign. In that time I met many individuals, families, teachers, clinicians and professionals and realised they all had a voracious appetite for information about ASD.
It was obvious that researchers play a significant role in the development of this information, but what struck me was that much of it was for the most part inaccessible to many for two reasons:
researchers publish their findings in journals that require subscription,
the technical language that academics use makes it hard for a non specialist to easily understand.
I felt there was a great opportunity for OTARC to bridge this divide. I found inspiration in the weekly staple of IT based podcasts that I listen to and took valuable lessons from their goals and format.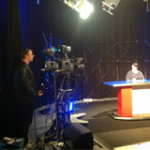 Understanding our supporters' interests
We invited our supporters to participate in two surveys in 2011, a survey of our participants and news subscribers. It was clear from the responses that individuals and families were highly motivated to find out about developments in research, and how such findings would inform their lives.
As the OTARC team regularly travels to international conferences and have cultivated numerous collaborations, I thought we were well placed to draw together a range of views and experiences for issues relevant to the ASD community.
Getting the show off the ground
I approached our then Dean, Professor Brian McGaw, requesting the support of La Trobe's Curriculum Teaching and Learning Centre (CTLC) to create a series of professionally produced videos, with an emphasis on developing a new talk show that focused on news and developments in autism research.
Professor McGaw supported our request, and the team at CTLC, led by Marcus de Rijk, have embraced our concept and supported the production of Inside the Lab.
An insight gained having worked closely with CTLC is the significant preparation and technical expertise required to produce a show, make it run smoothly and make the final cut of an episode look as if no effort was expended.
Our capabilities were recently tested by our goal of having an international guest on every show. We knew sooner or later we'd need to bring in a co-host via video conferencing because we can't simply rely on visitors to OTARC. On our most recent episode, #03 Autism in China, we brought Associate Professor Chonging Wang into the studio from Tianjin. This needed numerous pre-shoot testing over several weeks to make sure the software worked ensuring it was stable under different conditions.

It's one thing to have everyone in the studio hooked up with a microphone, but another thing altogether to bring in another video and audio feed, and have their presence displayed on a large screen. This was CTLC's first attempt to bring someone into the studio remotely and it was a thrill to see this come together. When I compare the quality of satellite feeds used by shows such as Lateline, there is often friction to the viewing experience because of the lag. Our use of video conferencing was a far smoother experience.
Being on set is quite a buzz. The studio is filled with gadgets, machines and devices of all kinds, and I'm sure a few more found their way in to help manage the video conferencing. There's also quite a few bodies on the set, with two behind cameras, Craig in the control room and Simon managing the sound. I too am behind a desk with a microphone connecting me to the anchor, communicating any technical issues.
Aside from the set, what excites me is the opportunity to share our research findings and the questions we are grappling with. I feel privileged to witness many of the conversations between our researchers, and my goal is to make these conversations available to everyone.
Each episode will be furnished with notes that include documents and links. These will be available on each episode's blog post.
The future of Inside the Lab
We are very keen to make sure that Inside the Lab provides relevant information to the community. We have earmarked six episodes for 2014. Topics to be covered include:
intervention
motor skills
sleep
diagnostic tools
If you have any feedback on the show or suggested topics, please post comments on any of the posts. We are committed to making the show valuable, accessible, and informative, and welcome your thoughts.
Inside the Lab is still in its early days and we will try to incorporate your feedback as the show matures. I hope you enjoy the show.
Previous Episodes