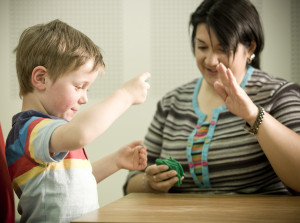 OTARC needs the help of children, teenagers and/or adults (with or without ASD) to volunteer for a practice assessment, to allow clinicians on the ADOS-2 course (Autism Diagnostic Observation Schedule) to practice their new skills under supervision.  In thanks for your help, we can provide a short assessment report for children (who have an ASD diagnosis), and a $20 Coles-Myer gift card.
The course will take place at OTARC, Latrobe University, Bundoora and is designed to teach clinicians and researchers in ADOS-2.  This is currently the best-practice observational tool for diagnosing ASD and learning to use it is challenging!
Who do we need and when?
Tuesday 27th September, 9.30am – 10.30am: we need child volunteers (5 years and under – who have some language eg. 3 words or more).
Wednesday 28th September, 2 – 3pm: we need older children (6 years and above), teenagers and adults (who can speak fluently).
Participation will take one hour at the most.  We need people to come at the following times: 9.30am to 10.30am, or 2pm to 3pm.   Volunteers only need to come for one session.
We have free parking on site, if you need it.
OTARC thanks you for your support.
If you would like to volunteer or have any further questions please contact Alex A.Aulich@latrobe.edu.au