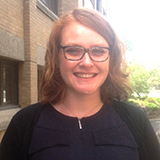 Dr Lauren Hollier recently joined the Olga Tennison Autism Research Centre (OTARC) as a Autism CRC Postdoctoral Research Fellow. She came from Perth, Western Australia where she completed a Masters in Clinical Psychology and a PhD with the Autism and Related Disorders Research group at the Telethon Kids Institute. Her thesis research focused on differences in language development between boys and girls, and, in particular, whether this was related to testosterone exposure in the womb.
At OTARC, Dr Hollier is working on two Autism CRC projects – – the Social, Attention, and Communication Study – Revised (SACS-R) and the Australian Autism Biobank. Both of these studies are focused on identifying the early behavioural and biological markers of autism.
We welcome Dr Hollier to the OTARC team.