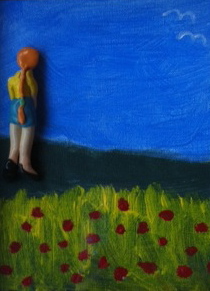 In the garden 2014

     mixed media
     20.5 x 15.5 cm
 Frame of Mind is an Autism awareness campaign that invites you the viewer to engage with the work of seven contemporary artists.
Professor Margot Prior, The Chair for the Olga Tennison Autism Research Centre's Advisory Committee
In the Garden makes me think of the peace you can feel as you look at a wide, pure blue sky when you are alone in the cool air and wanting to think over something on your mind. You climb up through a meadow of spring flowers to a high point where no-one can bother you and your thoughts can run free. You listen to the birds and their calling and singing to each other and you feel yourself escaping from the dark boundaries you sometimes have to struggle with to find your own space.